GET RID OF SPAM | TOOLS THAT COMBAT PC VIRUSES | CLEAN UP FORWARDED EMAIL | SHARE BIG FILES WITHOUT THE ATTACHMENTS | EMBED IMAGES IN EMAIL | CHANGE THE LAYOUT OF OUTLOOK EXPRESS FOR EASIER USE | MULTIPLE EMAIL ACCOUNTS ON ONE COMPUTER | ONE EMAIL ACCOUNT ON MULTIPLE COMPUTERS | BACK UP YOUR ADDRESS BOOK | HOW TO USE THE WINDOWS KEY | LAPTOP NETWORK SWITCHES MADE EASY | SET THE WINDOWS CLOCK | PREVENT ACCIDENTAL FILE DELETIONS | GET RID OF BANNER ADS | SOLUTIONS TO GET RID OF SPYWARE | VANISHING FORM DATA | BUYING ONLINE? PLAY IT SAFE | A COMMON FIX TO A LOST INTERNET CONNECTION | MY DSL CONNECTION IS WORKING SLOWLY | SAVE TIME HOOKING UP YOUR LAPTOP WHEN YOU GET BACK TO YOUR HOME/OFFICE

EMAIL CHALLENGES

STOP YOUR MAILBOX FROM FILLING UP

CHALLENGE #1: Emails bouncing back.

Solution: When you receive an email message, it goes to your internet service provider (ISP), which then allows your email program to grab it. A problem arises however, as most ISP's limit you to between 5-10 MB of storage space for your messages. Once your accumulating email fills that amount of storage space your ISP's email server will reject (bounce) new messages until you can make room for them.

A good practice to keep is fetching your email regularly. You also need to make sure your POP3 account is set up to delete your mail from the server after you've fetched it, as follows:

In Outlook Express and Outlook 2000 and 2002, click Tools – Accounts, select the proper account, and click properties – advanced. If you have "Leave a copy of message on server" checked, be sure "Remove from server after 5 days" (the default) is checked, but change the 5 to 2.

In Eudora, select Tools-Options-Incoming Mail. If you have "Leave mail on server" checked, be sure "Delete from server after 0 days is checked, but change the default 0 to 2.

In Netscape Mail, select Edit- Mail/News Account Settings, then select Server (Server Settings in Version 7) under the appropriate account name. Make certain that "Delete messages on server when they are deleted locally" is checked. Then select Copies & Folders (under Server or Server Settings) and set the drop down lists to appropriate local folders.

∧ Top

CHALLENGE #2: Increased levels of spam.

Solution: There are a number of great tools that are used to combat spam. We recommend that three below because from our experience they reduce 95-98% of the spam:

Mailwasher

This spam software is easy to set up and use, works very well and combats spam by filtering, blacklisting, and removing it. There is also a Mailwasher Pro Version, however the free one works well enough for most people.

Mailwasher goes to your mail server, in the same fashion that your email program does, However it will only retrieve the email header information along with the first few line of each message. From that point, you can take action: You can mark messages that you consider to be spam or I agree with Mailwasher's suspicion that they're spam. With one click of your mouse you can then instruct Mailwasher to send the message back to the sender using the "address not found" message, making it actually appear to be rejected email.

Very soon, you'll get the hang of using Mailwasher. Two excellent features allow you to add friends and contacts to a "friends list" or unwanted contacts to an "enemies list". After you've used Mailwasher for a while, it collects enough info about the type of email you receive along with the sender's information that allows it to block subsequent emails without going through any steps. Grab a copy at http://www.oreilly.com/pcannoyances.

IHateSpam

IHateSpam operates within your email program, so there's no need use it as a separate program. iHateSpam will simply make a toolbar available on both Outlook and Outlook Express that will give you the ability to bounce email, mark messages as spam (or not spam) and add senders to an enemies or friends list.

This is an extremely effective tool in combating spam. It will normally get rid of 98% of all spam entering Outlook. Another great feature about this program is its ability to get smarter the more you use it, through the use of the advanced algorithms that it employs. You can grab a trial copy of the $20 utility at http://www.oreilly.com/pcannoyances.

Hotmail

From Options, choose Junk Mail Filter and choose a filter level. Then click Safe List and add addresses you want to get through the filter, such as friends or business associates. Lastly, click mailing lists and add any lists that you happen to subscribe to so they won't be filtered as junk.

Yahoo!

There's no way to set spam filtering levels. Yahoo! uses SpamGuard, a tool that automatically filters spam.

∧ Top

Challenge #3: Getting rid of viruses within your PC.

Solution: Get HouseCall, Trend Micro's free up-to-date virus scanner, at http://snipurl.com/housecall. After a small utility downloads onto your PC, HouseCall scans your computer's hard drive, finding and removing viruses. Supplement this program with McAffee's Stinger, which does a great job of catching all of the current viruses that are being touted as threats. You can find Stinger at http://www.oreilly.com/pcannoyances

∧ Top

Challenge #4: Emails swamped with excess baggage- distracting symbols, extra spaces, carriage returns, and bizarre word wrapping.

Solution: There's a very easy solution, and it won't cost you anything. All it takes is a quick cut and paste into eCleaner, a fantastic free software utility, to scour the email of junk before you forward it on. Besides removing irritating symbols, the tool gets rid of HTML code and email headers and straightens out the word wrap. To clean an email, simply cut and paste the desired mail into eCleaner and press F1. Select the cleaned text and paste in into a brand new email. To add eCleaner to your toolbar, open the eCleaner folder right-click eCleaner and drag and drop it into the quick launch toolbar. Release the mouse button and choose Create Shortcuts Here. You can grab a copy of eCleaner at http://snipurl.com/ecleaner

∧ Top

SHARE BIG FILES WITHOUT THE ATTACHMENTS

Challenge #5: Not being able to send large files by email.

Solution: If you often send and receive large files, use znail instead of email (http://ww.znail.com). Znail is an almost-free utility used for the storing of large files- and it gives you the ability to share them. Simply upload a file to znail using your browser, then send your friend a link for file retrieval. There's no cost for up to 5MB of storage. A dollar a year gets you 20MB of storage and 50MB will cost about $10 a year.

If you're on a dial up connection, however, burn the file onto a CD and hand deliver it to your friend- the download time will take too long.

∧ Top

Challenge #6: Inserting images into the body of an email.

Solution: Providing your recipient's email program accepts messages with HTML code, here's how to embed images into your email:

In Outlook 2000 and 2002, create a new email and insert the picture by using Insert- Picture. Browse to the image you want to inert and then click OK.

In Outlook Express, format the message to be sent as HTML be selecting Format-HTML. Then select INSERT-PICTURE, browse the image you want to insert and then click OK.

In Netscape, create a new message and choose Insert-Image.

In AOL, click the little camera icon above the email message, browse the picture you want, select it, click Open and choose the sizing option.

∧ Top

CHANGE THE LAYOUT OF OUTLOOK EXPRESS FOR EASIER USE

Challenge #7: For many people, the default layout of Outlook Express could be much more intuitive. For example the contact window that OE opens by default when you first use it is pointless.

Solution: Start by selecting View-Layout. To drop the contacts window, click the box next to the contacts bar, then click Apply. You can then squeeze the icons down to size. With the windows layout properties box still open, click the Customize Toolbar button. Another dialog opens with two scrollable lists and a bunch of toolbar icons in each one. Under the left list, click the Text Options drop-down menu and choose either, "Selective text on right" or "No text labels", depending on how familiar you are with OE's icons. In icon options below that, select small icons.

You are then able to add useful icons like Print or Reply to Outlook Express' basic default tools. In the window on the left, highlight the icon you want to add, click the place where you want it inserted in the window on the right, and click the Add button. When you're done, click Close to exit the Customize toolbar dialog box, then click OK to close the layout window.

As a final step, you may command OE to get to work at startup. Select tools-Options and click the General tab. Click the box next to "When starting, go directly to my inbox folder" and click OK. Your outlook will then be ready for action, unhindered by (some of) Microsoft's poor software design ideas.

∧ Top

MULTIPLE EMAIL ACCOUNTS ON ONE COMPUTER

Challenge #8: How do I share Outlook Express with a significant other? How do you control who gets to be the default account? How do you avoid accidentally downloading your partner's email because he or she has set Outlook to automatically download mail at startup?

Solution: First, set up a separate identity so all your mail doesn't crowd into the same inbox. Select File-Identities-Add New Identity. Type in your username and Outlook Express will ask whether you want to switch to the new identity (you do, so click Yes) and, if you're already logged onto the Net, whether you want to stay logged on (sure, why not?). Then you'll need to answer some personal questions posed by the Internet Connection Wizard, such as whether you're adding a new account or an existing one, the names of your email servers, your username and password, and whether you want to import your old contacts.

Ok, you've finished creating a new identity. Now what? Go back to File-Identities, but this time pick Manage Identities. Check the "Use this identity when starting a program" box, click the drop down menu just below to open the list of identities (there should be at least two in there – yours and your partner's), and pick the one you want to be the default. Click Close.

As a last step, you'll want to make sure your partner doesn't accidentally download your email- or vice versa) at startup. Go into Tools-Options, and on the General Tab, uncheck the "Send and receive messages at startup" box.

∧ Top

ONE EMAIL ACCOUNT ON MULTIPLE COMPUTERS

Challenge #9: Reading email on both a work and home computer. The challenge is, once I download the email at home, I can't read it at work, so I have to forward important messages to myself. Is there a better way?

Solution: Let's assume you've already created accounts on both computers where you want to check email. One of them is probably more vital then the other- most likely the one at your office. We'll call that the primary computer and your home or laptop your secondary computer.

Open Outlook Express on your secondary computer, select Tools-Accounts, and go to the Mail tab. Select the email account that you want to check both at home and in the office, and click the properties button. Click the Advanced tab and check the "Leave a copy of messages on the server" box. Click OK.

Now you'll be able to download the same messages to your primary and secondary computers. (Note: Make sure you don't modify your primary machine with these steps, or you'll have endless duplicate messages on both systems.)

∧ Top

Annoyance #10: Backing up the address book in case my computer crashes.

The Solution: You have two options: find your Windows Address Book. (WAB files) hidden on your hard drive or export your contacts to a text file, which you can re-import later. On Windows 9x and Me systems, the files are stored in the \Windows\Application Data\Identities folder; on Windows 2000 and XP systems, it's in \documents and Settings\Userprofile\Application Data\Microsoft\Address Book.) The latter option is the easiest of the two, so that's the option we'll go through here.

In OE, Select File-Export-Address Book. Click "Text file (comma separated values)" to highlight it and click Export. In the next window, type the name of the backup file (address book backup, perhaps), click Browse, and pick the folder where you want to store the backup. (Store it on the same disk where you're backing up your email files.) Click Next, then pick the fields (name, address, phone) you want to export. If you're unsure which to pick, check all of them. Click Finish, and when the file stops copying, click close to close the Export Tool Box

∧ Top

GENERAL WINDOWS ANNOYANCES

Challenge #1: I have a Windows Key stuck between the Alt and Ctrl keys. What is it good for besides bringing up the start menu?

Solution: There are a number of solutions if you combine the key with other keys.

Some other useful combos:

WinKey-D
Minimizes all open windows and takes you to the desktop. Do it again and your taken back to the last active application.

WinKey-E
Opens Windows Explorer (My Computer).

Winkey-R
Opens the run dialog.

WinKey-L
Brings up the Log On screen.

WinKey-F
Opens the search companion screen.

WinKey-M
Minimizes all windows.

WinKey-Shift-M
Use this key combo to the "minimize all" command (WinKey-M)

WinKey-Pause/Break
Opens system properties

WinKey-F1
Brings up Windows Help.

For a complete list of Winkey combinations-plus shortcut keys for Word, Excel, and Windows in general- go to the Computer Hope site at

∧ Top

LAPTOP NETWORK SWITCHES MADE EASY

Challenge #2: I take my notebook when traveling and it's a pain to change my network settings to connect to the hotel LAN or my client's network. I have to carry a piece of paper with my network settings, and every time I make the changes, Windows forces me to reboot.

Solution: Use NetSwitcher. With NetSwitcher, I can save a set of network settings for each situation. When you're at a new location, such as a client's office, you can change and save the new network settings. Once you're home, you can restore your previous network settings with a few clicks. NetSwitcher is a $14 shareware gem (see figure 2-6), and it's cheap insurance-and a lifesaver-when I have to fiddle with my PC's network settings.

Unlike Windows, NetSwitcher requires a reboot only if you modify a parameter that needs a reboot to take effect. A 30-day trial of NetSwitcher is available at http://www.oreilly.com/pcannoyances

∧ Top

Challenge #3: Setting a PC to keep time accurately.

The Solution: By default, Windows XP (but not earlier versions of Windows) periodically synchronizes the computer's clock with an accurate timesaver on the Internet. (If your Windows XP computer is joined to a domain, it synchronizes with the domain controller.) Initially, Windows XP checks with the timeserver once a week, but if it needs to make too much of an adjustment it checks more frequently to maintain two-second accuracy.

You can see when the last successful synchronization occurred and when the next one is scheduled by viewing the Internet Time tab in the Date and Time Properties dialog box. (You can get there through the control panel, but the quickest way is to double-click the clock in the Windows systray.)

You can force Windows to synchronize immediately by clicking the Update Now button or by entering the command w32tm/resync in the Start-Run dialog box's Open field, a command prompt window, or a program shortcut.
Sometimes the Windows Time service gets very confused, and the clock in your windows XP computer gets pretty far off. If that happens, give the service a swift kick. Open a command prompt window (choose Start-Run, type cmd, and click OK) and type the following commands at the prompt, pressing Enter at the end of each line:

net stop w32 time
w32tm.exe /unregister
w32tm.exe /unregister
w32tm.exe/ register
net start w32time
exit

If you're not using XP you'll need a third-party program to synchronize your computer's clock to an internet timeserver. One I've used with success is AtomTime98 (http://www.oreilly.com/pcannoyances)

∧ Top

PREVENT ACCIDENTAL FILE DELETIONS

Challenge #4: Getting your system to alert you before you delete any files.

The Solution: Right click on the Recycle Bin either on the desktop or in a Windows Explorer or folder window, choose Properties, check the "Display delete confirmation dialog" box, then click OK.

∧ Top

BROWSER ANNOYANCES

Challenge #1: Getting rid of insidious banner ads that siphon off a fair sized chunk of internet bandwidth.

Solution: Many products block banner ads, and most work fine. One is listed below that can do the job very well:

AdSubtract

The SE version of AdSubtract is free, but limited to blocking ads on just five websites you specify. The $30 version, besides stopping banner ads and pop-up ads on any number of sites, InterMute's AdSubtract also prevents Windows from popping up, stops Java applets and Javascrips, filters out two types of cookies, brings annoying animations to halt and stops background music. Download the free version from http://www.oreilly.com/pcannoyances

∧ Top

SOLUTIONS TO GET RID OF SPYWARE

Challenge #2: Getting rid of insidious spyware that tracks browser patterns in order to "profile" computer users.

Solution: Spyware is a despicable business practice, but you have a high-quality tool that you can use to fight back:

Ad-Aware
This tool detects and removes spyware from your hard drive. The program is easy to use, and removes such spyware as Aureate/Radiate, Comet Cursor, Cydoor, Doubleclick, Everad, Flyswat, OnFlow, TimeSink, and others. There's a copy available at http://www.oreilly.com/annoyances

∧ Top

Challenge #3: Avoiding spending long periods of time filling in a lengthy form on a web page, only to be told after I submit it that it's missing an item. When the browser's back button is hit, everything vanishes.

Solution: Fix your browser's cache settings to hold on to the information. In Internet Explorer, click Tools-Internet Options, select the settings button on the General tab, and check "Every time you start Internet Explorer." In Netscape 6.0 and 7.0, click Edit-Preferences, expand Advanced, and click Cache to a minimum of 7680 KB. Then clear both caches. Note that you may have to click your browser's refresh button to see a revisited page's dynamic data.

∧ Top

Challenge #4: I would like to shop on the Internet, but no matter how secure I'm told a site may be, I'm still leery of using my credit card online.

Solution: If you want to buy online, get a single use credit card number. The number is generated on the fly, and it's good for a set amount and a specific length of time. It works just like your regular credit card-you'll see the charges on your next statement. Want to use it again? Just go to the site and generate another number. Try using MBNA's ShopSafe.

∧ Top

HARDWARE ANNOYANCES

A COMMON FIX TO A LOST INTERNET CONNECTION

Challenge #1 Fixing a lost Internet connection after having checked the connection with utility programs, reconfigured the pop up and ad blocker, fiddled with Windows' TCP/IP settings, and called tech support- to no avail.

Solution: A simple, two-minute reboot of your DSL or cable modem may be all it takes to get you back online.

If you're using DSL and can't get online- wait a bit- the modem should attempt to resync. If that fails, close the DSL dialer application, then reopen it and see if a connection is made. Still offline? Exit the dialer application, turn off the modem, wait several minutes, and then fire them back up. If that doesn't work, call your ISP.

If you're having problems with your Internet connection, first make sure there isn't a line outage. If your cable-connected TV is showing static, now you know why your cable Internet access is down.

Next, make sure all components from modem to cables to power, are properly connected. Still DOA? Turn off (or unplug) the modem for a few minutes, then turn it back on. Note which lights come on and stay on, and which ones don't – tech support may want to know. If everything lights up, you should be able to step online. If not, you may (depending on the system) have to turn off the modem and disconnect it from the coaxial cable for a few minutes, and then reconnect everything. If that fails, call your cable company.

∧ Top

MY DSL CONNECTION IS WORKING SLOWLY

Challenge #2: Getting a DSL connection to speed up- after trying a modem reboot (to no avail).

Solution: Call your Internet Service Provider (ISP). Routers are often set to use specific domain name server (DNS) addresses supplied by the ISP. Sometimes ISP's can change DNS addresses but fail to inform their customer base. Call your ISP, ask tech support if they've changed the DNS addresses, and ask for help in making the changes.

∧ Top

SAVE TIME HOOKING UP YOUR LAPTOP WHEN YOU GET BACK TO YOUR HOME/OFFICE

Annoyance #3: I use my notebook for traveling and when I get home, I use it as a desktop PC. It's a pain connecting all my peripherals at home and then unhooking the cables again when I hit the road.

Solution: Use Belkin's Hi Speed USB 2.0 Dockstation. The $95 gadget has one parallel, one serial, and two 2.0 USB ports, as well as input for VGA and Ethernet. First connect your monitor, printer, keyboard and other peripherals to the DockStation. Then connect two cables from your DockStation to your notebook, and you're in business. When you need to take off, just disconnect the two cables from your notebook. (see http://snipurl.com/dockstation).

∧ Top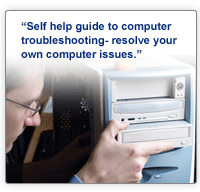 Enter a search term and press Go!