This page is all about you- our valued existing and potential clients. We invite you to bookmark this page so that you may return to it from time to time to consult the resources that we've gathered for you.
On this page you will find:
A series of free and low cost technology tools that will make your life easier on the job and drive additional profits for your business. They include both web-based and hardware related items.
News on the Information Technology industry in the form of articles and OPTIMA's quarterly newsletter.
A quick reference self-help guide that gives you the ability to troubleshoot your own computer issues, entitled "Quick Solutions to Common IT Challenges"
A direct link to the Webopedia online dictionary that will provide you with definitions to both common and obscure IT industry terminology.
An "ROI Calculator" that will provide you with the estimated cost reduction amount that your business would incur if it switched to using OPTIMA for IT support needs.
If you feel that there are other resources that you would benefit from that are not listed on this page, please email us your suggestions so that we may consider those resources.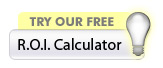 Enter a search term and press Go!